Our History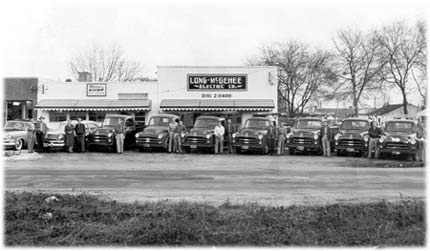 Long-McGehee Electric was started in 1945 by Alec Long and Moody McGehee and was incorporated in 1958. The business has served Montgomery's electrical needs for over 60 years. The people that have been a part of the business have always strived to provide quality work and insure satisfaction with each and every project and service undertaken. There is an extensive history of working with Montgomery's building contractors in construction, and in providing electrical services to Montgomery citizens and institutions.
This picture was taken in 1955 at the Mt. Meigs Rd. location with many of the employees that worked so long with the company. Emery Sheffield teamed up with Larry Robinson and Robert Slaton in 1964 to take up the ownership and management. The business prospered through the 1960's and expanded to build electrical projects throughout the state and in Georgia and Florida. Central Electric Company was created in 1970 to separately provide small services in the tri-county area. The corporate name was changed in the process to Central/Long McGehee Inc.
Long-McGehee Electric is still committed today to providing excellent work for all of our valuable clients.